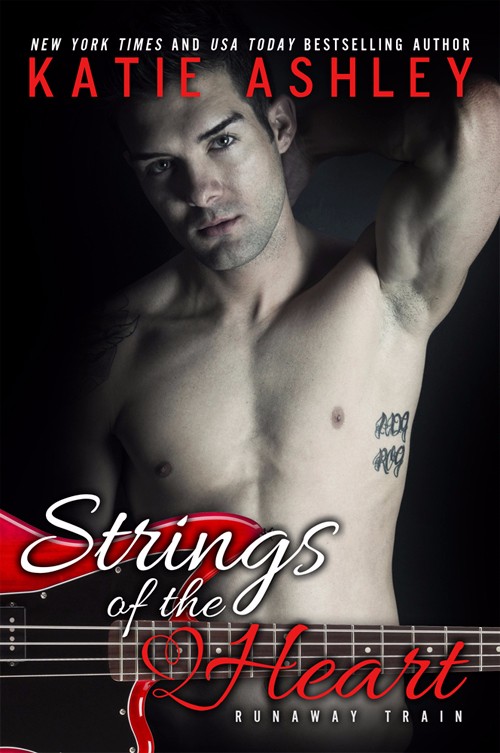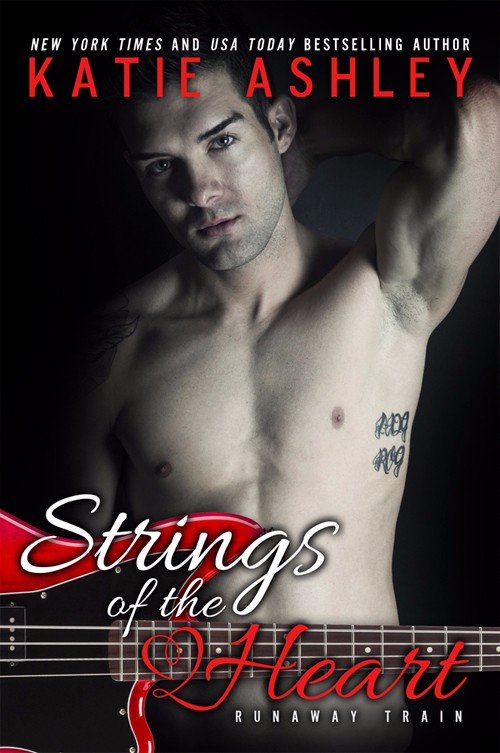 So when I finished Strings of the Heart, I knew it wasn't entirely finished. I knew you would see Rhys and Allison's wedding in Brayden's book. But some people really, really wanted some loose ends tied up, so I love to please my readers.
Here is the epilogue of Strings of the Heart

Five Years Later
They say that dealing with small children is like trying to herd cats. That thought flashed like neon in my mind as I stood surrounded by my gaggle of child models who each had a mind of his or her own. Ranging in age from five to thirteen, most of the kids' minds were working against me at the moment. With the clock ticking ten minutes past when the fashion show rehearsal was supposed to start, I was taking slow, deep breaths and trying not to have a meltdown.
I clapped my hands to try to get their attention to somewhat focus on me. "Okay guys, now I need you all to get in line and stay in line. We're going to pretend it's just like tomorrow, and there's an audience full of people," I instructed. Gazing over their heads, I stared desperately at Abby, Mia, Lily, and some of the other moms. They took the nonverbal cue, and each went to their child, or children, to give a last minute pep talk, or in some cases, come to Jesus talks.
Six months ago a charity fashion show to raise money for autism awareness and research seemed like a great idea. Now that it was the day before the show, I was having second thoughts. In fact, I was wondering what in the hell I was thinking. Not only was it being held at an exclusive venue like the Ritz in Atlanta where a red carpet would be rolled out for the celebrity attendees, but every media outlet from the local Atlanta stations to TMZ were running a story about it. I'd had more microphones shoved in my face the last few days than I had since Rhys and I had become an official couple. After all, the fashion and music world often merged together, and as the wife and sister of rock stars, I was a unique commodity.
The past five years had been a whirlwind of professional and personal highs. After I went out on tour with Rhys, I had stayed true to my word by finishing my degree in fashion design, as well as getting so much on-the-job training. Rhys also kept his word by buying our own bus. I toured around the country with him and even the world. I kept right on helping out with Jax and Jules as well. Three years into our relationship, Rhys popped the question while we were on a trip to Scotland. Of course, I had said yes, and we got married six months later in Savannah. Although Rhys had wanted to tell his parents to fuck off when they broached the subject of a society wedding in his hometown, I managed to change his mind when I pointed out that I wanted to marry in Savannah since we truly came together for the first time as a couple there. In the end, he managed to cut most of his mother's suggestions on the guest list to where he was happy with the venue in the city but without her snobbish circle of social elite.
A year after the wedding, I got down to business working on launching my own clothing line—Allie Cats. It was an eclectic mix of styles that I'd been inspired by while in school at SCAD. While I had moderate success with it, I hit the fashion jackpot when I turned my attention to what all the Runaway Train children were wearing. On a whim, I did a small collection of children's clothes called Allie-Beans, a nice homage Jake's old nickname for me. It became an overnight hit, and at only twenty-five, I became a well-known name in the children's fashion industry.
With the success of Allie-Beans, I wanted to do something to give thanks for the amazing blessings I'd been given. That's where the idea for the charity fashion show came from. While Rhys had thought it was a brilliant idea and had encouraged me like he always did when it came to my career, neither one of us had realized that it would mean me staying home for a month from the latest tour to get the line and show ready. More than anything in the world, I wished he was with here to reassure me that everything was going to be fine. He wasn't even sure that he would be able to make it in time for the show tomorrow, which was an issue for more than just him since all the guys' children were modeling.
Once the moms had stepped aside, the kids seemed to have a renewed determination. I got a thumbs-up from the stage manager, and I knew it was now or never. "Okay, guys, it's time. Remember what you practiced, but remember to have fun."
When the upbeat tempo of the house music started thumping out of the speakers, I slipped out from behind the curtain to stand out in the audience. Tomorrow I would be backstage checking outfits and cueing kids, but today I needed to make sure everything was flowing well.
First up was Brayden and Lily's, Jude. At thirteen, he was modeling some of the Allie-Beans pre-teen line. With a shy smile, he started out from behind the curtain. It was hard to believe he was a teenager now, considering it seemed just like yesterday I was holding him as a baby. With his sandy blonde hair, crystal blue eyes, and tall, lean figure, he certainly had the features of a model. Once he passed the awkward teenage phase, he was going to be a real heartbreaker. He was truly his father's son in the fact that he had picked up a guitar when he was just five, honing his talent over the years. I could totally see him wanting to follow in Bray's footsteps in the music industry.
Next up came my eight-year-old diva, Bella. She had insisted on wearing one of the pieces from the formal line that was yards of satin and beading. She had already asked me to design her Quinceneara dress, which was still seven years away. As Bella strutted down the runway, I couldn't help grinning. She had inherited so much of AJ's personality. Of course, it didn't hurt she was a real beauty—a perfect mixture of AJ and Mia's best features. Her glossy back hair hung down the back of her royal blue party dress. When she and Jude met up on the runway, Miss-Eight-Going-On-Eighteen winked at him, and I had to cover my mouth with my hand. Shy Jude turned five shades of red, but he didn't mess up. I could totally see the day when the five year age difference wouldn't matter as much…I just hoped AJ wouldn't kill Jude, considering it would probably be his flirty, forward little girl making the moves.
By some sort of miracle, each child performed amazingly, and I could only hope and pray they would do the same thing tomorrow. Five-year-old Gaby wore a sparkly pantsuit. Nine-year-old Melody modeled a hat and sundress combo while six-year-old, Lucy, who was more of a tomboy, wore a sportier top and pants. I gave her a big thumbs-up when walked in front of me. She had come so far in her diagnosis on the autism spectrum.
After Abby and Jake's five-year-old twins made their debut in matching outfits—Jax in shorts and Jules in a skirt and sweater—, I headed back stage for the finale—the moment I would walk out on stage and then be joined by my models for the big finish. Of course, I had to make a pit-stop first for my last, and most favored model.
In Abby's arms, a six-month-old baby boy sucked voraciously on a pacifier while appearing absolutely adorable in a rocker-themed outfit of black and white converse shoes, tiny, ripped jeans, a Runaway Train t-shirt, and beanie. The moment his eyes met mine, his face broke into a wide grin, causing my chest to fill with warmth I'd never before knew existed.
Samuel Rhys McGowan wasn't bone of my bone or flesh of my flesh. He hadn't grown under my heart, but instead, he had grown in it. When a roadie's seventeen-year-old daughter came to us and asked us to take her unborn baby, our world was turned upside down. Rhys and I had only been married a year, and we didn't plan on having children for a long time. Why she wanted us out of all the Runaway Train couples, I still have no idea. She said it was because she had liked the way Rhys and I interacted with Jax and Jules, along with the other Runaway Train children. Despite my original doubt, I knew from the moment I tentatively reached out to touch her extended belly, the baby was ours. Whether or not we would one day have kids of our own was still to be seen. For the moment, Sam was keeping us on our toes.
Taking Sam into my arms, I kissed his chubby cheeks. I took my walk down the catwalk, just as I would tomorrow. Once I was finished, all the kids came back out on stage, and we took our bow to the hoots, whistles, and applause of their parents. As I gazed around the group with Sam in my arms, tears stung my eyes at how incredibly blessed I was.
***
After everyone left the rehearsal, I took Sam and headed home to our apartment in Dunwoody. Jake had generously given Rhys and me ten acres of his land on our wedding day, and we had built a house just down the road from him and Abby. I rarely stayed there when Rhys was away. Even with Sam, it didn't feel like home unless he was with me.
Although I was exhausted, I didn't collapse on the couch. Instead, I fed and bathed Sam, and when he was still not sleepy, I headed into my home studio. Since Sam wasn't the type of baby who liked to be rocked to sleep, I eased him into his bouncer saucer to let him bounce out his excess energy. He was perfectly content to play until he practically passed out. I turned on the iHome on the desk, sending classical music throughout the room.
As stood behind my desk surveying some new Alley Cat designs, an arm snaked around my waist, drawing me against a familiar body. When his head came to nuzzle my neck, I sighed with contentment as my heartbeat accelerated. Rhys had made it home a day earlier than he had thought. The warmth of his tongue licked up my neck to the shell of my ear. "You better be careful about starting something. My husband is supposed to be coming home soon," I said, trying to suppress my laughter.
Rhys tensed behind me. "What the fuck?" he demanded, as he spun me around.
I giggled as I threw my arms around his neck and then smothered his face in kisses. "Oh baby, I'm so glad you're home."
He snorted contemptuously. "Me too. I obviously need to spend less time on the road and more time ensuring my wife is faithful."
Smacking him playfully on the arm, I countered, "Do you think between the fashion show and all of this—" I motioned to the stacks of design papers, scraps of clothing, and sewing materials around me. "That I have time for an affair?"
"Well—"
"Not to mention Mr. Demanding over there." I jerked my chin over at Sam in his bouncy saucer.
Rhys's face lit up like a Fourth of July sparkler at the sight of Sam. For the moment, I was forgotten as Rhys's "Daddy Vision" honed in on his son. He hustled over to Sam. At the sight of Rhys, Sam gave an appreciative gurgle and held up his arms. "Hey there, little man. Look how much you've grown."
I couldn't help laughing at his statement. "It's only been two weeks since we flew out to see you, Rhys. And we've Skype'd every night."
"It's not the same," Rhys countered, peppering Sam's face with kisses. Like Jake, Rhys had worried about his ability to be a father and to a love a child, especially because of his childhood. But all his worries been in vain the moment Sam was born. Sam's birth mother had let us be in the delivery room, so he'd been ours practically from the moment he drew his first breath. I could count on one hand when I had seen Rhys cry, but the moment Sam was put into his arms, he sobbed uncontrollably. And just when I thought I couldn't possibly love him anymore, I fell in love with him all over again.
After Rhys raised Sam up to blow raspberries on his tummy, sending Sam into a fit of giggles, Rhys glanced over at me. "How's everything with the show?"
"Good…I think." I leaned back against my desk. "I mean, whenever you work with kids, it's a crapshoot."
Rhys chuckled. "That's the truth. Of course, I'm pretty sure Jake, AJ, and Bray will lay down the law to their kids. And for the most part, the Runaway Train kids aren't heathens."
I laughed. "That's true." Turning back to my desk, I picked up an envelope that I knew would make Rhys really happy. As I waved it at him, I said, "Guess what came yesterday?"
Just like I had predicted, his dark eyes lit up. "The symphony season tickets?" When I nodded, a broad smile spread across his cheeks. It wasn't so much that Rhys was such a mega fan of classical music, but more the fact that the tickets were for Ellie. Since she adored music so much, he had started flying her and Trudie up for the weekend, so that we could all go together. While I'd initially worried that she wouldn't do well off her usual schedule and out of her comfort zone, Ellie truly enjoyed each and every minute in Atlanta. We even took her out to Jake's farm, and then to our new house once it was finished. Rhys also stepped up to lend his name to several prominent autism charities. He even did a commercial and print ad with Ellie to give a name and face to the issue. I was so proud of him.
When it came to Sam, Ellie was just as mesmerized by him as she was by music. She would sit for hours, stock-still, just watching him sleep. As Sam got older, he would reach out for her, which always caused her to smile. Regardless of the lackluster response by Elliot and Margaret about Sam's arrival, Ellie showed how thrilled she was in her own special way.
"I think it's way past someone's bedtime," I remarked, when Sam snuggled into Rhys's chest with heavy, drowsy eyes.
Rhys kissed the top of Sam's blond head. "I think so too." After he closed the gap between us, the eyes, which had once looked adoringly at his son, turned over to give me a lustful gleam. "Why don't we put him to bed, and then I'll put you to bed?"
A shiver went over my body. Besides the one racy Skype chat, it had been two weeks since we had been together. My body ached for his hands, his mouth, his tongue, and most importantly his dick. Cocking his head at me, Rhys gave me a seductive grin. "Am I to consider that shudder as a yes?"
Licking my lips that had run dry, I hastily replied, "Yes. Oh yes."